Not only are Gantt charts easy to build in Smartsheet, they look good too. With just a couple clicks, you can customize the appearance of your project timeline.
1. Change the Colors of the Task Bars
1. Right-click on a task bar and select Color Settings.
2. A color palette will appear, letting you change the color of the bar.
3. If you want to apply the same color to multiple task bars, click the task bars while holding down the Shift button. This will select all the bars. Then, release the Shift button, right-click on any of the selected bars, and click Color Settings.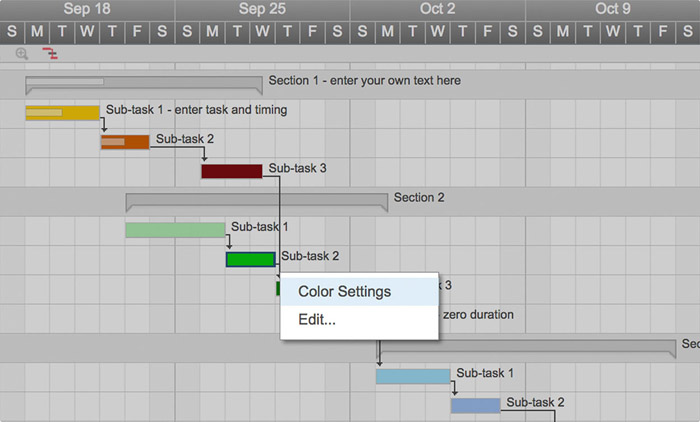 How to Import an Excel File into Smartsheet
Smartsheet works with Excel, so if you already have your project information stored in Excel, you can easily import that directly to Smartsheet.
Click the Home tab and click the grey Import button. Choose the Import from Excel File option.

2. Click Select, choose the file you would like to import, and click Open.

3. Click Continue and an Import Settings form appears.

4. Select the row in the form that contains your column headers (it will probably be the first row) and click Import.

5. The imported file will appear as a new sheet within Smartsheet. Click on the sheet name to open it.