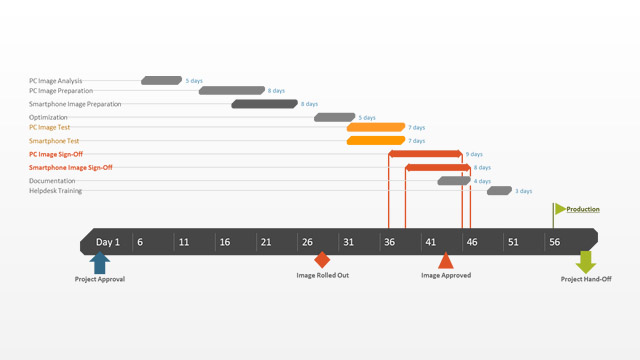 IT project management requires planning, organizing, orchestrating and execution of any information technology objectives. The IT project management template was designed so information technology stakeholders will have clear understanding of your plan. It was built to be visual, impressive, and simple for any information technology project communication.
The template was designed to present a clear plan for software development, network installations, hardware upgrades, system migrations, application rollouts and data management or any other IT services. It can be used at any phase in the life of an IT project, from the project charter, project planning, project execution, project assessment and project sign-off phase.
In addition to planning, assessing and controlling information technology projects, IT managers are also required to be proficient communicators. The IT project management template is a PowerPoint slide and should be a key component of any communication plan to team members, clients, vendors, management and other stakeholders.
The IT project template can also be used by IT pros to assist in managing their information technology projects. Keeping the template updated and visible will help IT professionals maintain control over project deliverables and important milestones. Directors can also use the template to model schedules or timelines during the planning phase of any project.
The template is a downloadable PowerPoint slide which can be edited and shared with anyone who has Microsoft PowerPoint. It was also built to work with Office Timeline. Office Timeline is a project add-in for PowerPoint. It creates timelines and Gantt charts for important communications. The tool can automatically update this IT project management template or it can quickly build new information technology slides as fast as project stakeholders are requesting them. Office Timeline Plus edition is integrated with Excel and other project management applications like Microsoft Project so existing data can be instantly transformed into an IT project slide.